Palawan
---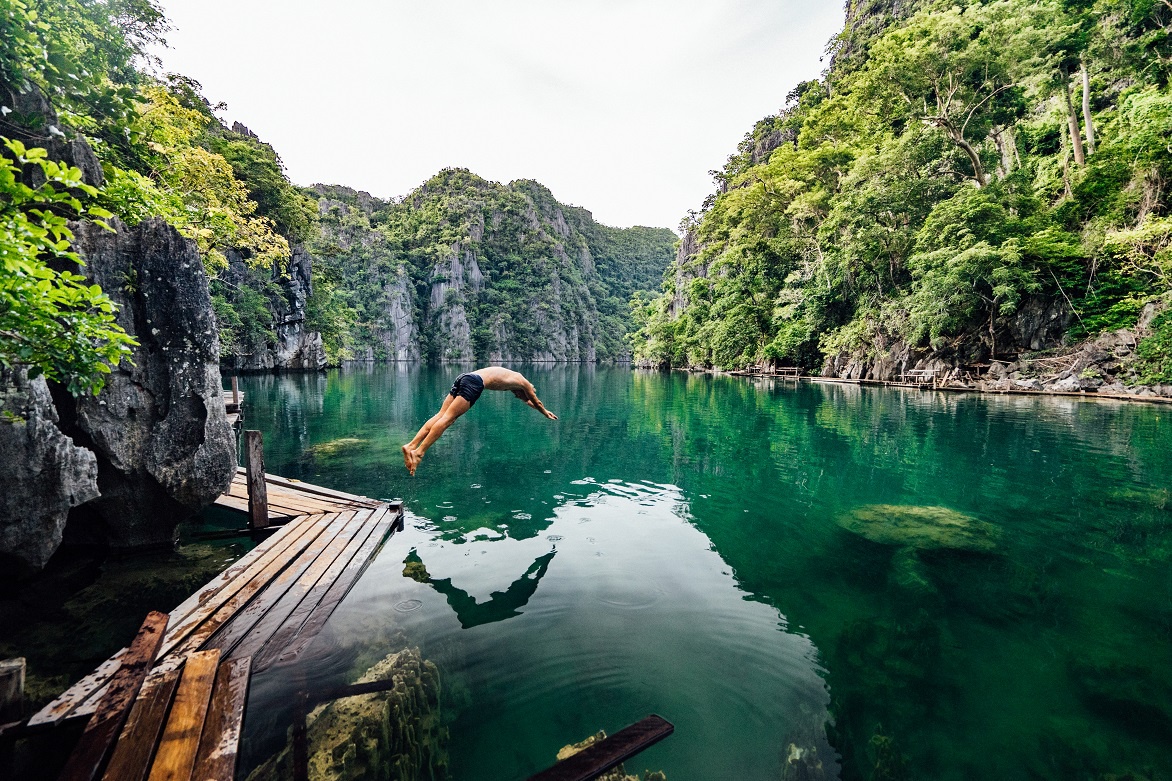 Palawan, considered one of the best places to visit in the Philippines, consistently ranks as one of the best islands in the world, and for good reason. Palawan has over 1,700 pristine islands and islets scattered in its four main destinations: El Nido, Puerto Princesa, Coron, and San Vicente. Palawan has been consistently cited as one of the best islands in the world and just recently it was again recognised by the Travel+Leisure (T+L) 2020 World's Best Awards as "Best Island in the World". It boasts white sand beaches and islands, clear blue waters, a spectacular variety of marine life and shipwreck sites, and majestic towering limestone cliffs. If you love swimming, island-hopping, diving, and snorkling this biggest island province in the Philippines should be in your travel bucket list.
Best Time To Go
---
Dry Season - November to May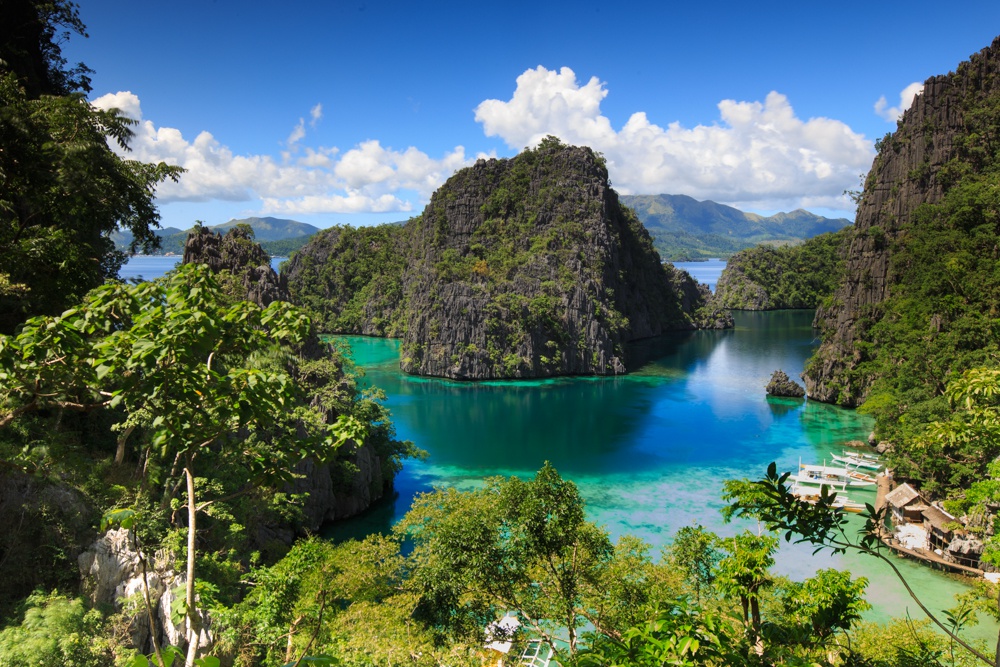 The best time to go to Palawan and its destinations is during the dry summer season, from November to May. The warmest months are from March to April, the summer season in the Philippines. Palawan tours, especially the underground river tour and island-hopping tours, are best maximized during these months.
Climate and Weather
You can expect a warm tropical climate almost all year round in Palawan, except during the rainy season, which is usually around July to September. The month with the most rainfall is during September.
The warmest months are from March to April, with temperatures reaching 33°C. The month with the lowest degrees are from November to February with an average temperature of 23°C but is still dry.
Getting To Palawan
---
By Air
The easiest and most common way to go to Palawan is by riding a plane, with Puerto Princesa as the main jump-off. There are also flights going to El Nido, Coron, and San Vicente. However, more flights are going to Puerto Princesa, and it covers international flights aside from domestic. Read more below to learn how you can travel to Palawan through different routes.
Via Puerto Princesa
Domestic and international flights to Puerto Princesa are available almost daily. If you're coming from Manila, the travel time is just over an hour. There are also flights from Clark (Pampanga), Iloilo, Cebu, and Davao going to Puerto Princesa.
Via El Nido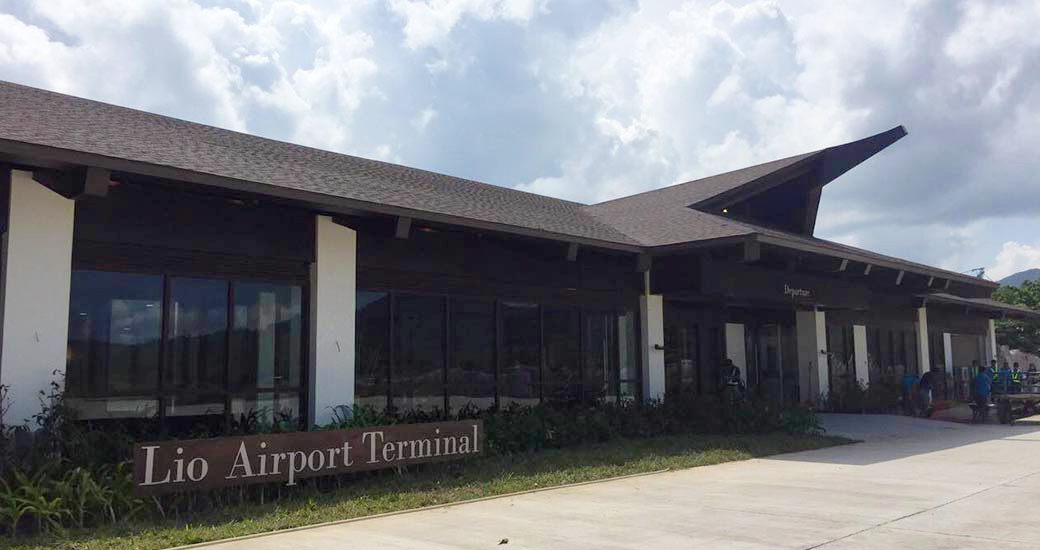 If you want to explore only or go to El Nido first, the fastest option from Manila is to fly directly to Lio Airport. AirSwift is currently the only airline that services this route with up to four flights per day. The travel time is around 1 hour and 20 minutes.
Via Coron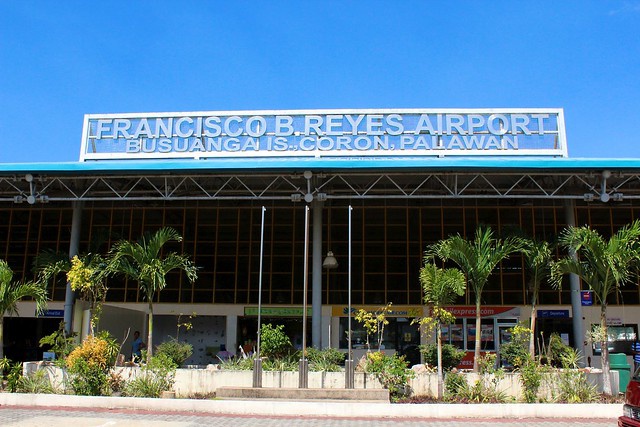 ​
Coron is located on a separate group of islands above the main island of Palawan. You can go here by flying to Francisco B. Reyes Airport or Busuanga Airport for around 1 hour of travel time from Manila. Most major domestic airlines have daily flights going here from significant destinations like Manila, Clark (Pampanga), and Cebu.
Destinations in Palawan
---
With over 1,700 pristine islands and islets scattered in its four main destinations- El Nido, Puerto Princesa, Coron, and San Vicente, Palawan is home to many attractive destinations that cater to all types of travellers. Whether you are a nature lover, an adrenaline junkie, a culture vulture, a soul searcher, or an influencer, there is always something to see or experience in the beautiful island of Palawan.
Underground River
---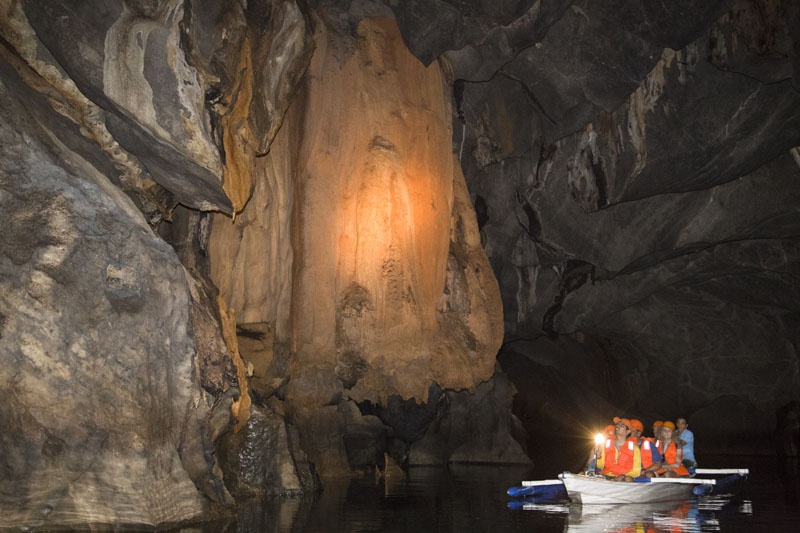 Northern Palawan is home to The Underground River in St Paul Subterranean National Park. A UNESCO-recognised World Heritage Site and voted as one of the "new Seven Wonders of Nature" in 2012, the underground river is the number one site that propelled the city to the world's radar, being the world's longest navigable subterranean river.
Visitors are taken by pump boats into St Paul cavern through an underground world of cathedrals with huge stalactites, cave wall formations, and icy lagoons. Although the expert guides usually have high-powered lamps on hand, you can also bring a headlamp to see the attractions better in the dark. There is a limited number of visitors that are allowed to enter the site per day, so it is best to make a reservation as you can't just walk in. The exploration usually goes on for one to five hours. For those who want to hang around the area, it is possible to camp overnight at any of the beaches or stay in one of the nearby resorts, so long as you register with the park wardens. For transportation arrangements, you may ask your hotel about the best way to get there.
Firefly watching
---
While most people would know Iwahig to be a penal colony, it houses an entirely different experience. Come by before dark and you will be treated to a spectacular display of dazzling lights from hundreds of fireflies, floating all around you in a mesmerizing sight. The experience is absolutely romantic, awe-inspiring, and magical. Just make sure to turn off your flash when taking photos, or you'll scare the lightning bugs away.
After the tour, enjoy a sit-down dinner at the popular restaurants in the area such as Iwahig Firefly Restaurant, Ka Inato Restaurant or District Seven Restaurant.
Honda Bay - Island Hopping
---
Many beachgoers skip Puerto Princesa in favor of neighboring Coron or El Nido, but the city has an ace up its sleeve. Honda Bay island-hopping tours are a must-do for any beach lover. Aside from lounging on the beach, swimming, and snorkeling, you can try diving too.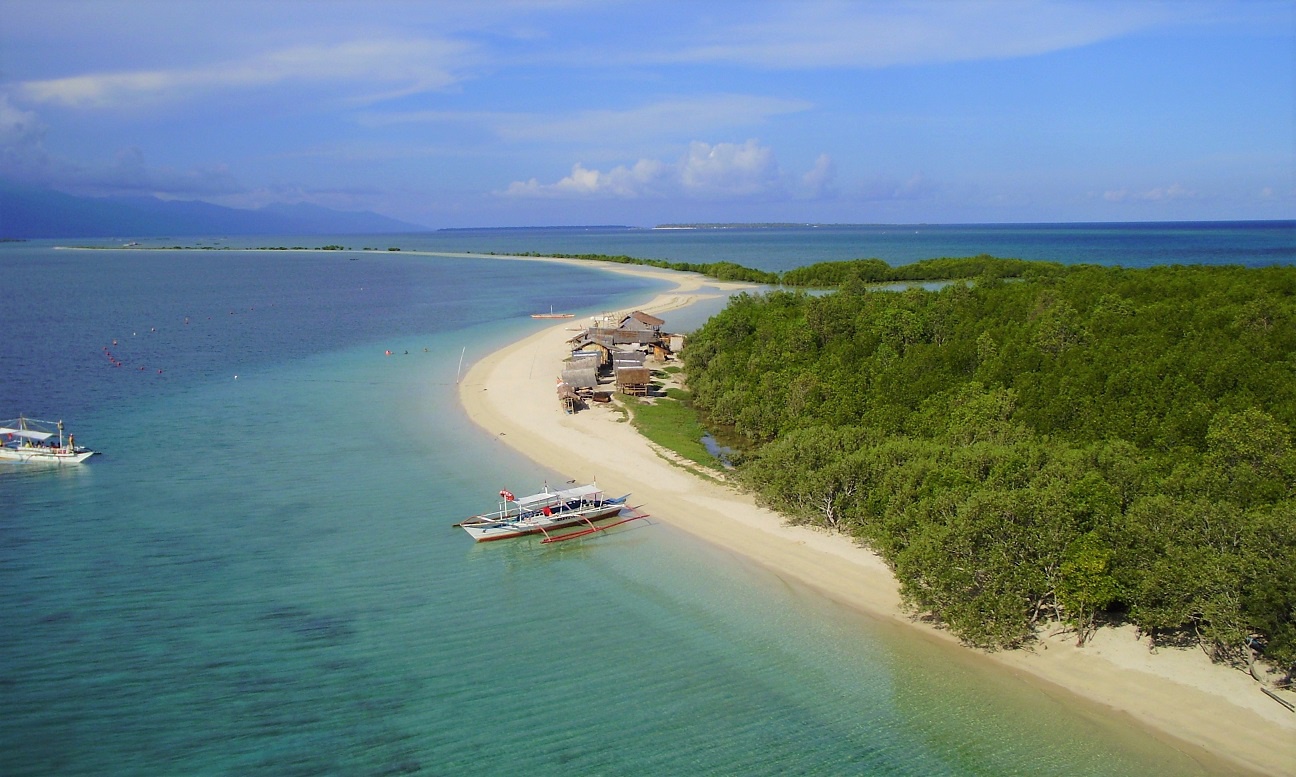 Honda Bay is located 10km north of Puerto Princesa and is a shallow expanse of water with a spectacular view of mountain ranges on the main island. Seven low-lying islands make up the bay, most of which are surrounded by mangrove swamp and corals. The best place in Honda Bay to see magnificent corals and giant clams is the Pambato Reef, where you can snorkel by joining a tour from Puerto Princesa. Some trips also include a stop to Dos Palmas resort on Arreceffi Island, where the day-guest rate will be included in the price of your tour.
El Nido - Big Lagoon
---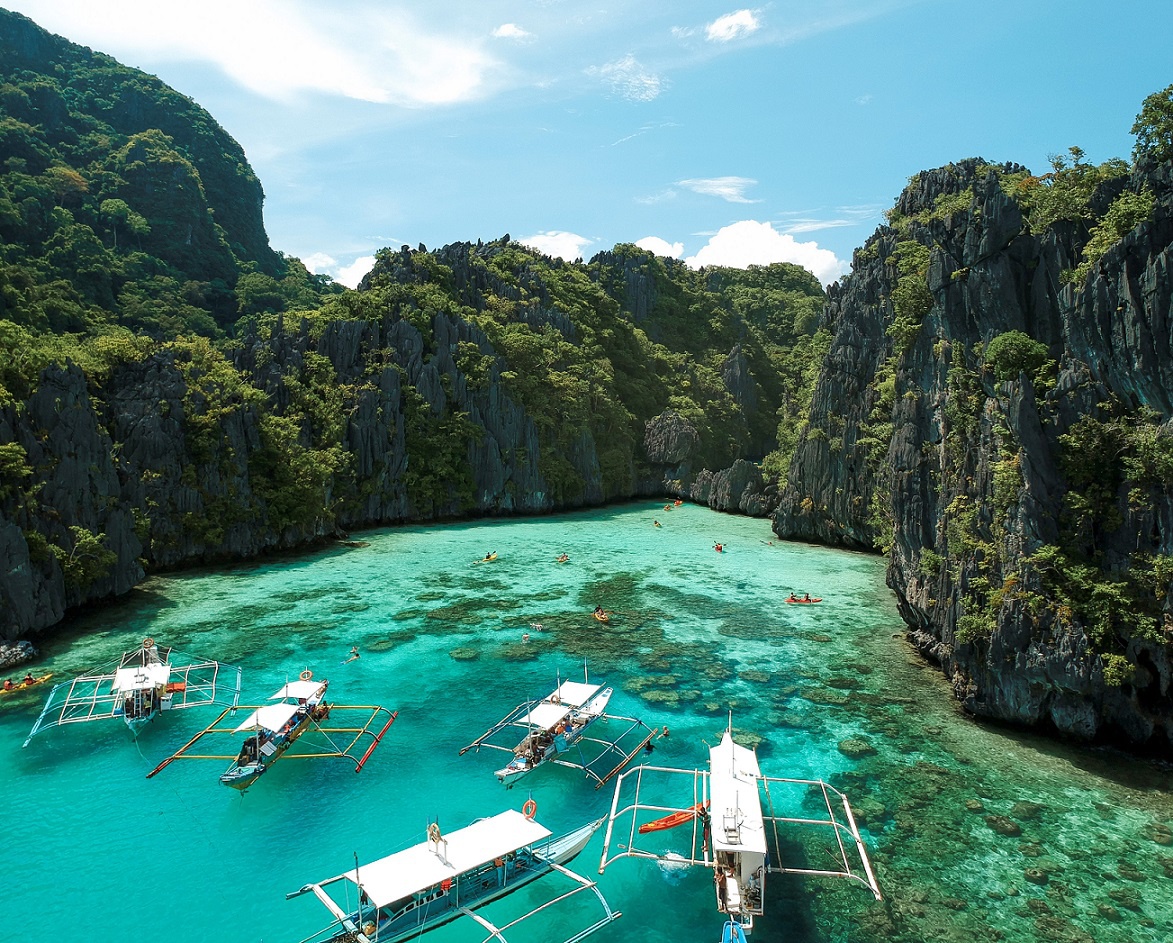 A trip to El Nido is not complete without exploring its breathtaking lagoons, particularly the Big Lagoon. Located in Miniloc Island which is 45 minutes away from El Nido, the Big Lagoon is a stunning site with emerald-coloured waters surrounded by dark towering limestone cliffs. Boats are not allowed to go inside, but travellers can get off the boats and ride their kayaks to explore Big Lagoon. Once inside the lagoon, you will see a massive natural swimming hole surrounded by walls made out of limestones.
Coron - Kayangan Lake
---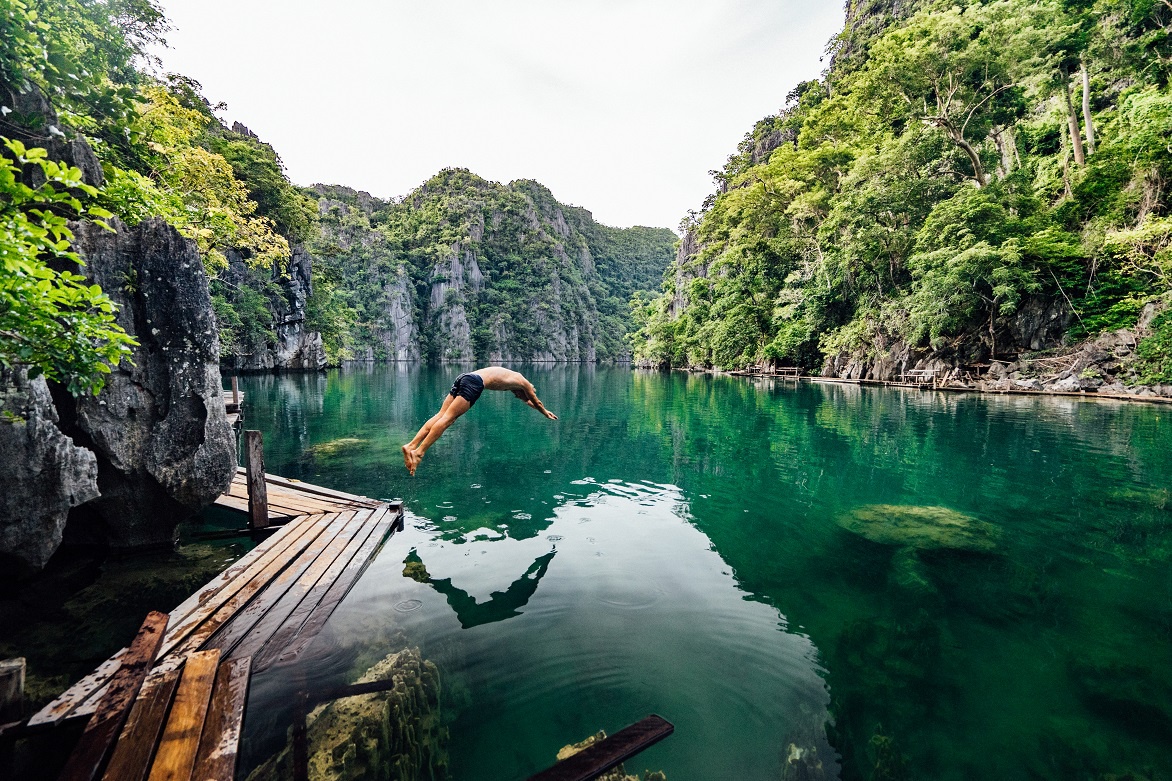 Kayangan Lake is the cleanest lake in the Philippines and one of the most popular destinations in the whole of Coron. The water is said to be so clear that you can see all the way down for as deep as 10 meters without even diving. The lake is perfect for kayaking as it is always calm and quiet. It is interesting to note that the most iconic and photographed spot in Coron is the view of the sea from an elevated cliff on the way to Kayangan Lake and not the lake itself. Kayangan Lake is best experienced either swimming, diving or snorkling. However, if you happen to enjoy hiking as well, you can explore the overlooking mountain to see a 360 degree view of the area.