Manila
---
SM Mall Of Asia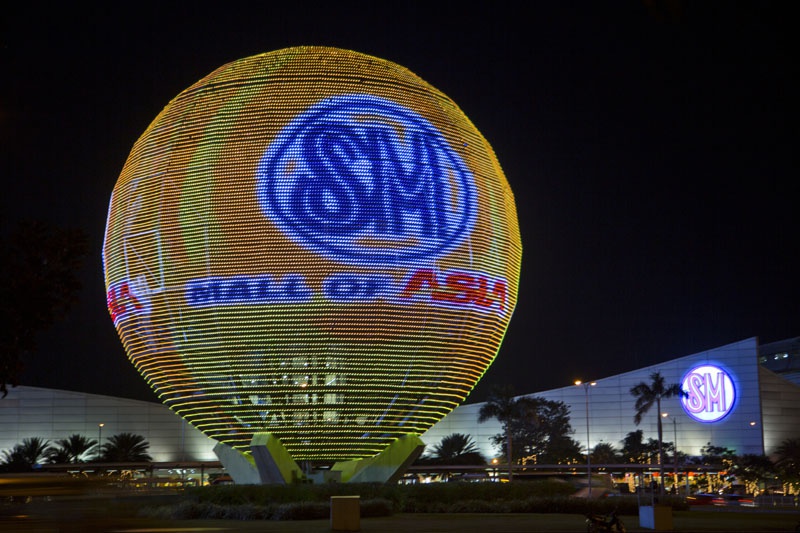 Located in Pasay City, near the Manila Bay and the southern end of Epifanio Delos Santos Avenue (EDSA), SM Mall of Asia or MOA is particularly famous for both domestic and international visitors. Opened in 2006. it is the fourth largest shopping mall in the Philippines and fourteenth in the world. SM Mall of Asia has several establishments within its shopping complex. The mall features everything from hundreds of chain and independent stores to attractions like an ice-skating rink and IMAX Theatre. Occupying a total of 20 hectares (50 acres) and 1.9 million floor tiles on reclaimed land along Manila Bay, it has quite a distance to cover with ample places to rest. MOA is open every day from Monday to Sunday from 10 am to 10 pm. If you happen to be there during the December holiday season, most shops normally remain open till 12 midnight.
Greenbelt, Makati
Greenbelt is a shopping complex, spanning 12 hectares and located within the Ayala Center in the Makati CBD. Within this massive shopping centre, you will also find a sprawling 2.8-hectare garden. Greenbelt offers a mix of high to middle-end retail shops, restaurants, amenities, leisure and entertainment. Currently, the complex has five distinct areas namely Greenbelt 1, 2, 3, 4 and 5. Greenbelt 1 houses numerous shops, restaurants, and a cinema. Greenbelt 3 features a mix of international brands, restaurants, a food court and a cinema. Greenbelt 4 and 5 showcases high-end luxury boutiques and restaurants. The complex is open every day, Monday to Sunday, from 11 am to 9 pm. Store hours may vary or may even be closed during holidays so its best to check before visiting.
168 Shopping Mall
If you're more of the adventurous type and are looking to get more bang for your buck, head on to 168 Shopping Mall. Located in Binondo, Manila in the heart of Chinatown, 168 Mall is every frugal shopper's paradise. The unassuming shopping mall carries everything under the sun, from those little novelty items you didn't know you needed, to clothing, bags, shoes, toys, and food. The mall features many bargains spanning three floors. Unlike the traditional malls we are accustomed to, friendly haggling is accepted (and recommended). Just a small pro-tip: Make sure to always stay alert and keep an eye on your belongings while going about your business, as pickpockets often frequent the area. The malls are open from Monday to Sunday from 9 am to 7 pm.
Cebu
---
Ayala Center Cebu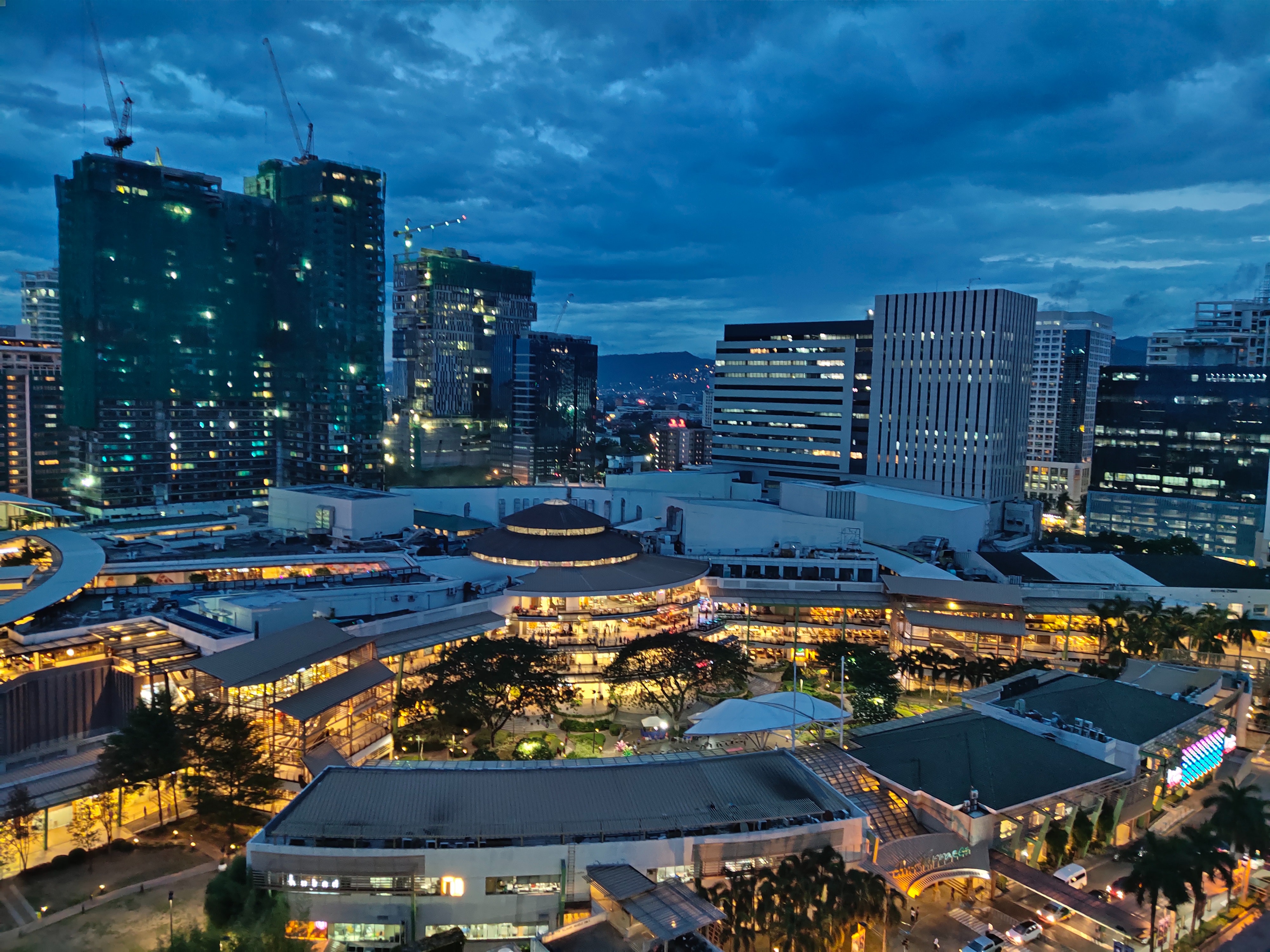 The Ayala Center Cebu, since its opening in 1994, has been welcoming around 135,000 shoppers every weekend. This centrally located mall showcases a vast and varied selection of local and international stores, along with coffee shops, cinemas, internet cafés – and its renowned food plaza - The Terraces dining complex. The mall is open daily from 10 am-9 pm. The Terraces often closes a bit later after taking their last order.
SM Seaside Cebu City

This mall is the heart of Cebu City is considered to be the mother of all malls and the biggest in the Visayas Region. It is a part of the big chain of shopping malls throughout the Philippines, known as the SM Supermalls. This mall, features both international and local brands, a cinema and a host of restaurants to choose from. If you get too warm during summer, you can head on to the skating rink to cool off. This supermall is located 3km east of downtown and opens daily from 10 am to 9 pm.
Mactan Marina Mall
If you find yourself at the end of your journey and pressed for time, head on to the Mactan Marina Mall for some last-minute shopping. The Mactan Marina Mall is a decent-sized shopping mall located near the Mactan International Airport vicinity. The mall features over 100 speciality stores that offer discounted products and other goods from the Mactan Economic Zone. Stores sell a myriad of products from clothing, shoes, health products, to watches and other gadgets. You can also find a variety of restaurants that cater to every taste - Japanese, Korean, European and Chinese. There is also a patisserie if you want to cap off your lunch or dinner with a cup of coffee and dessert. The mall is open daily from 7 am to 9 pm.
Bohol
---
Island City Mall
If you're thinking of leaving the beach scene for a while do some shopping, head on to the Island City Mall in the city. It is one of the biggest shopping malls on the island and features a wide and diverse range of stores and restaurants. From fashion and accessories to books and gadgets, the Island City Mall has everything to offer. Pro-tip: Make sure you bring enough cash on hand as some ATMS do not accept foreign credit cards. The mall is open daily from 8:30am to 9pm.
Bohol Quality Mall
Known locally as BQ Mall, the Bohol Quality Mall is considered to be one of the largest shopping centres in Tagbilaran City. It showcases a myriad of restaurants, specialty stores, fashion boutiques and bookstores. While you may not find the big brands you are accustomed to, this mall offers a lot of bargain outlets that can give you more bang for your buck. There is also a cinema with plenty of dining choices. BQ Mall is open daily from 9am to 8:30pm.
Plaza Marcela
Plaza Marcela, while not as new as the other shopping malls, is considered to be a favorite among the locals. Situated in the busy district of the provincial capital, Tagbilaran City, Plaza Marcela is very accessible to many tourists as well whether you just arrived or are about to leave the island. If you want to hang out with the locals, this is the perfect place as most locals are drawn to this mall because it often hosts special events including live performances. It also offers quite a number of specialty stores and features a wide selection of restaurants. The mall is open daily from 8am to 7:30pm.
Boracay
---
D'Mall Boracay
D'Mall Boracay is located along White Beach sandwiched by Stations 1 and 2. If you are coming from station 1, it is one tricycle ride away from the farthest end. If you are not in a hurry and would like to take in the scenes along the beachfront, it is also possible to go on foot. The shopping area features a myriad of restaurants, souvenir shops, bars, cafes, clothes, and accessories. You can also find ATMs, banks, money changers as well as convenience stores for your basic necessities. As this is not your typical mall, haggling is allowed. Just be prepared to bring cash as some stores do not accept credit cards.
City Mall
If you want to step out of the beach scene momentarily, then visiting City Mall would be a great way to take a break from your water activities. City Mall is the pioneer commercial centre to open on Boracay Island. It is located at the intersection of Boracay Main and Diniwid roads, very near the popular golf course, Fairways and Bluewater Golf Course. City Mall features a modern air-conditioned space that allows shoppers to relax while they do their shopping. The mall showcases a variety of fashion boutiques, restaurants, a grocery store, a pharmacy and a small gaming centre where kids can hang out. City Mall is open daily from 9 am to 9 pm.
E'Mall
If you happen to be staying in Station 3 and can't be bothered to travel to Station 1 or 2, then you can opt to make a quick (or long) visit to E'Mall. Located in Station 3 along White Beach, E'Mall is a great place to find swimwear, beachwear, t-shirts and souvenirs in Boracay. It is a slightly inexpensive alternative to the more famous D'Mall. There are also places to stop by for a quick drink or snack in the many bars and restaurants while you wander around checking out the quirky shops.
Palawan
---
Binuatan Creations
If you happen to be in the city, either on a city tour or just taking a break from your water activities, we recommend that you stop by Binuatan Weaving Centre or also known as Binuatan Creations. Located in Puerto Princesa City, Binuatan Creations is the place to go if you are interested to learn about the stunning creativity of the locals when it comes to making handicrafts. The handicrafts and finished fabrics are made of indigenous fibres that are abundant in the province. You can find fashion accessories such as colourful purses, bags and other souvenirs you can take home. Binuatan Creations is open daily from 7 am to 6 pm.
South Sea Pearl Museum
If you are looking for pearls for yourself or to bring home as a gift to friends or loved ones, stop by the South Sea Pearl Museum. The museum is both a place to learn about the history of pearls as well as a souvenir shop where tourists and visitors can purchase whatever may catch their eye. A trip to the South Sea Pearl Museum gives visitors the opportunity to learn about pearl culture and its significant contribution to local livelihood and economy. To arrange visits to South Sea Pearl Museum, check southseapearlmuseum.com.ph.
SM City Puerto Princesa
If you're looking for the usual modern air-conditioned mall where you can chill and hang while you deviate from your usual water-based activities, then visit SM City Puerto Princesa. Similar to the other SM Malls featured on this page, SM City Puerto Princesa has everything you need - from dining, fashion, entertainment, cinema, gadgets, services, and shopping. Located in Bgy San Miguel, Puerto Princesa City, SM City Puerto Princesa is the 64th SM Supermall in the Philippines and the first in MIMAROPA region. The mall features a three-storey building featuring retail and dining outlets including SM Supermarket, The SM Department Store, Banco de Oro, Sports Central, Surplus, Cyberzone, Watsons, SM Appliance Center, and Ace Hardware. The mall also features three state-of-the-art digital cinemas and two Director's Club Cinemas. SM City Puerto Princesa is open daily from 10 am to 10 pm.