Covid 19 Travel Advisory
---

In light of the current COVID-19 situation, the Philippines has implemented temporary travel restrictions to contain the spread of the virus. We urge you to stay home and follow community quarantine protocols. Learn more
For more information on the latest travel news, please refer to the following:
Philippine Consulate General Sydney
Philippine Department Of Tourism - Head Office

Visa Information
---
If you're from Australia or New Zealand and travelling as a tourist to the Philippines – good news! You may enter the Philippines and obtain a visa on arrival which would allow you to stay for a maximum of thirty (30) days. However, you must possess a passport that's valid for at least 6 months beyond the period of stay in the Philippines, and present a return or outward bound ticket to the next country of destination. Visitors who wish to extend their stay from 21 to 59 days should contact the Bureau of Immigration, Magallanes Drive, Intramuros, in Manila (Mon–Fri 8am–5pm).
​Chinese Nationals, including citizens for Hong Kong and Taiwan, will need a special permit. Indian nationals with a valid U.S., Japanese, Australian, Canadian, Schengen, Singapore, or United Kingdom visa will be granted a 14-day visa free entry which may be extended for an additional 7 days for a maximum stay of 21 days. *BI Memorandum Circular No. RADJR-12-008. This only applies to Indian Nationals arriving at the Ninoy Aquino International Airport (NAIA 1-3) who have the following: (1) National Passport valid at least 6 months, beyond the contemplated stay (2) Return or Onward ticket (3) No derogatory record in BI, NICA, or INTERPOL.
​Please note that the information above is subject to change. For the latest information please visit the following websites:
Currency
---
The Philippines is definitely a place to visit if you're looking for more bang for your buck. According to current exchange rates 100 AUD = 3,727.09 Pesos (PHP). *Rates are subject to change. Please check your local banks for the latest exchange rates.
Philippine Currency
The Philippine's national currency is the Philippine Peso (PHP) which comes in denominations of 20, 50, 100, 200 (not common), 500, and 1,000.
​Exchanging Foreign Currency
Foreign currency may be exchanged at international airports, most hotels, in most of the large department stores, banks and authorised money changing shops. Exchanging money anywhere else is illegal and the laws are strictly enforced. For the latest exchange rate, check Bangko Sentral ng Pilipinas (Central Bank of the Philippines).
​Tipping
Although tipping is not generally "required", it is greatly appreciated and at most times, expected. It is customary to reward people with a small token of gratitude for providing you extra assistance over and above what you require (e.g. helping you carry your bags). It is also common to round up fares for drivers or to add a few pesos for their friendly service. For establishments such as restaurants, as a general rule, a tip of 10% of the total bill is the usual practice. Check to see if the bill already includes the 10% service charge as in these cases, tipping is optional.
​Banking Hours and ATMs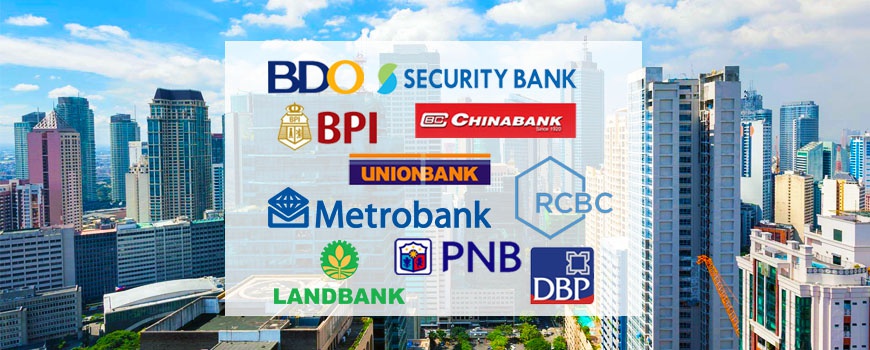 Banks are open from 9:00am to 4:00 p.m, Mondays to Fridays (except public holidays). ATMs operate 24 hours a day and are widely available in most cities and major towns. Banco de Oro (BDO), Metrobank and Bank of the Philippine Islands (BPI) usually work best for international cards. Limits may vary, but most ATMs will only dispense up to 10,000 pesos per transaction with a 50,000 pesos per account daily limit. Fees may be charged on transactions, particularly withdrawing from international accounts. It is best to check with your bank before you travel.
International Credit Cards
International credit cards such as Visa, Diners Club, MasterCard and American Express are accepted in almost all major establishments such as hotels, restaurants, and retail outlets in Metro Manila, Metro Cebu and other large cities. Some merchants may charge credit card surcharges. Most Philippine banks will allow you to take a cash advance on your card.
Telecommunications and Internet
---
Resorts and hotels offer IDD and NDD calls from their rooms. Most hotels have IDD, fax, and internet facilities. Some may impose a small fee but most are free of charge for hotel guests. The international dialling code for the Philippines is 63. Mobile phones in the Philippines use the GSM network and coverage is available throughout the Philippines except for remote areas where the signal may be intermittent. If your cell phone has an international roaming facility, it will automatically connect to one of the country's networks.
Electricity
---
The standard voltage in the Philippines is 220 volts AC, 60 cycles. Major hotels will provide adapters. Plugs often take after the North American configuration, without the grounding slot. If you travel to the Philippines with a device that does not accept 220 volts AC at 60 Hertz, you will need a voltage converter.